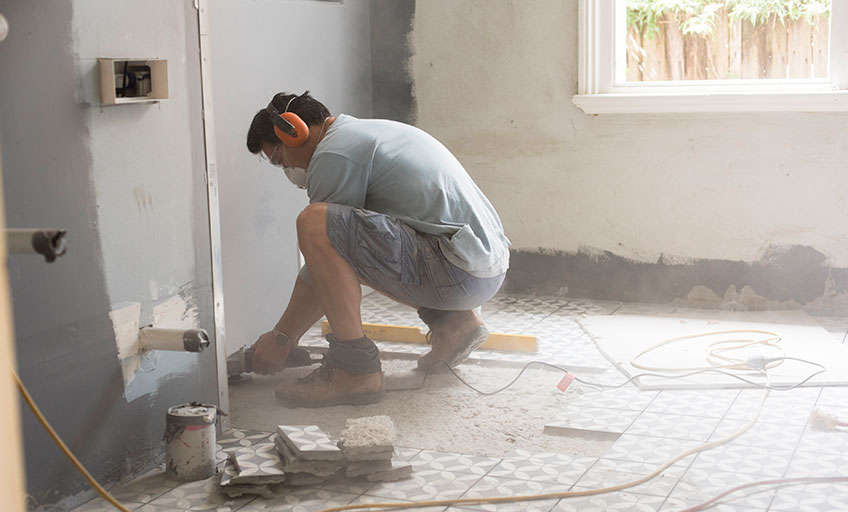 The decision to renovate or relocate is an age-old conundrum that often puts homeowners in one of the most difficult situations - should they stay or should they go? In fact, it is such a popular topic that there is a TV show on HGTV called "Love It or List It."
If you find yourself in this situation and "Love It or List It" isn't giving you clarity, following are some key questions to guide your thinking:
7 Questions to Consider
Do you love the geographic area where you live? If you sell your house and purchase another will you be able to afford the area? Does the size of your house fit your current needs? In some markets, owners have been "priced out of the market" and if they sell their home they would not be able to upgrade or even buy a comparable home in the same geographic area. If you happen to find yourself in this situation, and your current geographic location is your preference, then renovating could be your only option other than relocating outside of that geographic area.
Do you plan to increase the size of your family in the near future? If you are planning to increase the size of your family and need more square footage or extra rooms, the first step is to determine if it is possible to do that with your current home. Is there space to build up, are there any neighborhood restrictions, can you build out or expand on the lot? This might require the help of a general contractor in order to determine if renovation is possible based on the property itself.
Will your family size decrease with children going to college? Are you an empty nester? Are you retiring in the near future? If you are thinking of downsizing, or need less space, relocating could be a better option.
What year was your home built and have any upgrades been done that increase the value of the home? The age of the home, and whether or not any upgrades have been done overtime, could significantly impact the overall cost to renovate. This becomes a financial and market analysis decision. Is doing the renovation worth the investment? And can you afford what it would cost to renovate? And is the home be saleable with, or without, the necessary renovations?
What is your tolerance for major projects and who will manage the project? While a renovation project is fun and exciting, the reality is that someone has to work with the general contractor, and other contractors, to make decisions along the way and manage the financial budget. Some people are not only better at this than others, it really is a matter of personal preference regarding the tolerance for this type of project. If you are married, and have a family, it impacts all involved in the household so these factors should be taken into account when considering a renovation.
Can you finance the renovations or do you have cash to finance them? Renovations can be costly so it is important to make a thorough assessment to determine if you have the cash needed for the project. If not, a lender can guide you through the process to determine if a renovation or home equity loan might meet your needs. And depending on the current equity in your home, you may be able to refinance the home and draw the cash you need to complete the renovation.
What is your tolerance for living in the middle of a remodel or do you have an alternative location to stay? The size of the renovation project should be considered when determining to whether to continue to live in the house while the work is being done. If the project is as simple as repainting, changing appliances and floors then it might be easy to live in the home with a few minor adjustments. If the renovation project includes knocking out walls or expanding, this might be more difficult. Determining the breadth, and scope, of the project is an important component and is discussed below. One final consideration is if anyone in the family works from home, alternative arrangements might be necessary during certain portions of the project.
Once you have answered these questions, you will have a better idea about whether or not renovating is an option.
Plug in some numbers and explore your borrowing power. Estimate how much house you can afford, monthly payments, evaluate interest rates, and compare loans against each other with this simple tool.
3 Steps to Help You Make Your Decision
1. Assess Your Current Home.
Assessing your current home is the first step as it is necessary to determine how much work needs to be done, how much that might cost, and how long it will take. You also want to be sure that renovations will add value to the home--not all upgrades are created equal. Renovating can be costly so making a thorough assessment on the front end can save you not only hard fixed costs but emotional costs during the renovation process.
Factors that affect how much a renovation could cost are:
The age of the property
The condition of the property: Have any upgrades been made in the past?
The size of the lot: Do you have room to expand?
Other factors: Do know a general contractor who can help you get bids?
Do have an expert real estate agent that can help you with market analysis?
It is important to remember that even with a detailed plan and matching bids, once renovation starts there are unknown factors that could affect the cost and the time to complete the project. It is helpful to consider all factors to be as realistic as possible prior to starting a renovation.
During this step, you will request a full project bid from multiple contractors so that at the end of this step, the project is outlined with all possible associated costs. This will help with the next step which is to complete a market analysis on your home at it's current value and at the value it would be with the specified upgrades.
The last part of making an assessment after receiving bids is to determine how you will pay for the renovations. If you don't have cash, or want to reserve cash, it is critical to enlist the help of an expert lender. They can help you determine if, and how, you can finance the project.
2. Complete a Market Analysis
This is an important, and often overlooked step in the process. In order to make a wise decision about a renovation project requires a market analysis to determine what your home is currently worth and what it would be worth after renovations are completed. If the market analysis shows that your home would be overpriced in your neighborhood after renovations, then you might want to scale back the project. An expert real estate agent will be able to help you pull comparable homes in the area and make a well-grounded assessment regarding value now and with the upgrades.
While you are working with the agent on an analysis of your current home, it is also worth your time to survey the market. Are there homes that already meet your location, size, and amenity needs that fit within a budget? What would your current home sell for, and how much cash would that yield for the move? Remember, in addition to a down payment, you need to factor in the cost of selling your home, closing costs for the new home, and moving expenses.
Step 3. Make a Decision
Once you have answered the questions to ponder, have a complete an assessment of your home, and a complete market analysis, you are now armed with enough information to decide if you want to proceed with the renovation or relocate.
If you decide to renovate, after following the outlined steps, you will already be armed with renovation bids, market analysis, an expert real estate agent and a method to finance the project. At this point, you can decide which contractor to use and begin the paperwork to start the financing required on the project. At this point, you are ready to begin your project.
If you decide to relocate, the good news is you will already have the market analysis, the expert real estate agent and a lender that should be able to help you finance a new home as a buyer. At this point, you will want to get the home staged and ready to list, you are on your way to a new home.
Conclusion
In conclusion, going through the process to determine if a renovation is right for you will save you time,energy and resources in the long run. In the end, whether you decide to "love it or list it" you are embarking on an exciting journey with a new opportunity.
Sente Mortgage has received hundreds of five-star reviews for it's exemplary service and support.
Silicon Valley Bank's collapse has caused turmoil in the markets and various speculation — but one obvious outcome is how this event has affected…
Read More
The Federal Reserve just raised the federal funds rate in an attempt to battle inflation — but the Fed's rates and mortgage interest rates…
Read More
Let us help you Purchase or Refinance